www.xaratemplate.com specializing in Xara Web Templates
SERVING USA, UK, AU, SA & MORE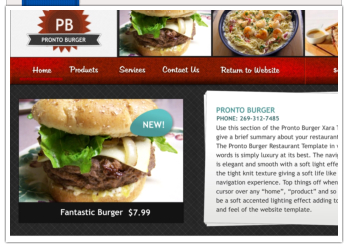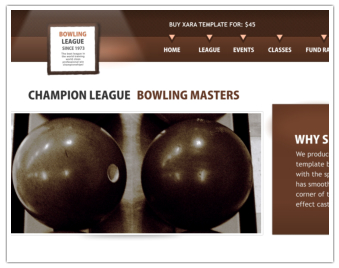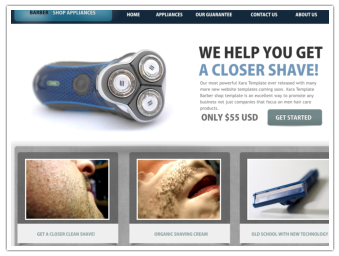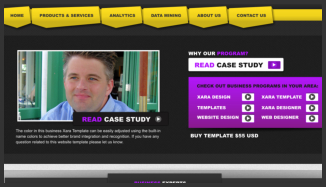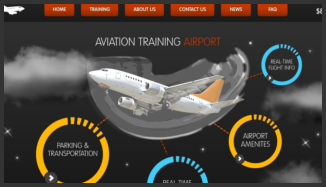 Restaurant Template is a new website Xara Template built for Xara
Web Designer 7 Premium or new versions. This website template
has a lovely glow effect that makes it appear as if navigation menu
bar has light shining on it. In very few words this web design
template is absolutely incredible and very affordable for even the
most frugal budget. To learn how to edit this website template view
demo on YouTube. To view live website design click "view template"
button.
Xara Templates Web Design:
Restaurant Template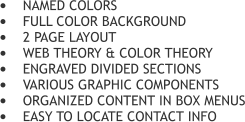 Xara Template Bowling was built with Xara 7 web designer. This template
was specifically design as an Xara 7 Template to take advantage of the
power of the newer version of the Xara software. It has a special roll over
menu for navigation bar. Also this Xara 7 Template has a special lighting
effect that is casted on the logo in upper left hand corner.
Many hours of production above normal hours were allocated to ensure a
new level of quality was given to our Xara Templates. We know you will
appreciate this Bowling Xara Template and the pricing is still extremely
low only $45 USD. The two active page are the "home page" & "league"
in the navigation menu bar.
XARA TEMPLATES WEB DESIGN: Bowling Template
Xara Template Barbershop is another Xara 7 Template designed to
harness the efficiency of the new Xara software version 7 of web
designer. This design takes things to another level with impressive
textures and special blends of colors and light. This Xara Template will
make customers feel as if they have visited the royal royce of website yet
you will be happy to know that you still have plenty of income to take it
even further if you decide to have additional graphic work completed.
Xara Template barber shop is priced at an unbeatable price only $55
USD and it is jam packed with awesome quality. The two active pages
are the "home page" & "appliances" link in navigation menu bar.
XARA TEMPLATES WEB DESIGN: Barbershop Template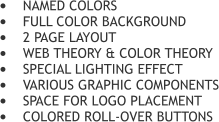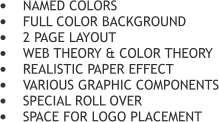 Our first Xara 7 Template dedicated to helping general businesses
introduce their business to the Internet. Xara Template Business
Template has a envelope like menu that has mouse-over effect and at the
bottom of the first page of this Xara 7 Template their is a sense of depth
with each text box having a slightly different height. The main body
section has a purple box with its own set of mouse-overs. At both the top
and bottom of this website template their is extra space for client to add
in any social media sites they are connected with. The second page of
this Xara 7 Template has ribbons that use a one-point perspective giving
a sense of distance and life to the website template. Ribbons is a huge
trend in web design and you can get it for as little as $55 USD.
XARA TEMPLATES WEB DESIGN: Business Template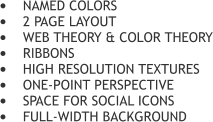 Xara Template Construction template has been a long time in the making
and we finally have brought it too our template store. What makes this
Xara 7 Template amazing is it uses things like a star-burst behind photos
on home page, it has a guy standing right in front of portfolio
emphasizing he is coming to get the job done right, slogan of benefit you
have to offer is written in bold letter right beneath main photo on home
page. This website template also uses a highlighted outline of guy as
bulleted list below on first page and so many other benefits we don't have
room to announce them all. The second active page is the about us page
click on it to see the mazing layout craftsmanship.
XARA TEMPLATES WEB DESIGN: Construction Template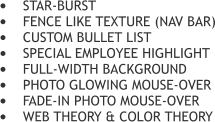 Xara Template Aviation Template was built to push all the creativity as
possible into one website template. Everything in this design is
handcrafted to precision but it still utilizes logic for an intelligent layout.
The clouds, stars, vector brush and even more elements can all be re-
sized & manipulated like changing the color and so on. The Aviation Xara
Template is an unbeatable value the fact that it has an illustration in it
alone, which would normally cost $40/hr to build makes it easily worth the
messily $85 USD and trust me it took a lot longer than 2 hours to build this
amazing piece of artwork. Also throughout the whole design their are
mouse-overs and various textures to integrate a seamless experience as
you scroll through the website. So what are you waiting you and I both
know a design of this quality and price isn't easy to come by.
XARA TEMPLATES WEB DESIGN: Aviation Template